Military Weapon Maintenance Made Easier With Durable Solid Lubricant

UPDATED 1/15/21
While it may seem like unnecessary practice to ensure your weapon is clean, this could be a matter of life and death for military personnel. That's why there are several different types of metalworking fluids available in the market specially designed for cooling, corrosion control, and lubrication.
Industrial lubricants are used to treat and maintain weapons, and for avid gun owners, this means improved weapon reliability and durability.
For long, military personnel have been using a regular lubricant that served as a cleaner, lubricant, and preservative and they had to be continuously reapplied.
Effective Weapon Cleaning Methods
One of the common challenges Armies, especially those deployed in extreme environments, have to deal with in addition to the threat from the enemy is weapon failure or stoppages if proper cleaning products and procedures are not used.
This is a far too common problem and that's why weapon maintenance is encouraged in these cold or extremely sandy regions. As a result, the industry has seen the development of a more effective gun oil used by military engineers for any environment.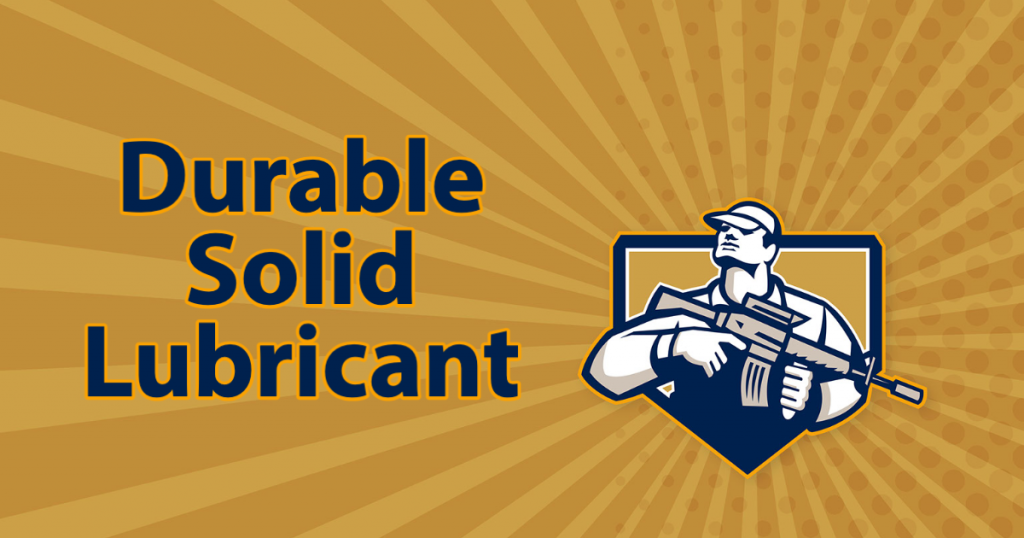 Durable Solid Lubricant
DSL is the improved dry surface treatment used in weapon component manufacturing and it is proving to be an effective alternative to cleaner, lubricant and preservative — CPL. This lubricant has continuously demonstrated technical capability in cleaning both small and medium caliber weapons.
Today, gun oil used by military troops are largely the durable solid lubricant type as they offer superior performance and reduce weapon malfunctions. Best yet, guns cleaned with DSL require less maintenance.
The DSL lubricating technology performs better than CPL. It has reduced friction coefficient, which makes weapons to slide easily. The lubricant is also able to achieve enhanced corrosion and wear resistance. Conventional lubricants such as the CPL need constant reapplication to ensure the weapon is properly cleaned for utmost functionality.
Such lubricants are not ideal for warfighters since the weapons have to be regularly cleaned, which is not an easy task. But heavy duty lubricants with enhanced wear and corrosion resistance and low friction coefficient like DSL ensures that once you apply, you don't need to keep on reapplying.
When it comes to preventing armament components corrosion, the industrial standard practice is to use phosphate and oil to treat steel and aluminum parts respectively. Luckily, gun oil used by military engineers are built with favorable material ingredients that ensure corrosion free weapon components, which is also eco-friendly cleaning method.
For avid gun owners, nothing can bring more joy than a full day at the gun range. To ensure that your weapon is firing properly, and will continue to fire properly, routine cleaning must be conducted after every use. Cleaning isn't just an appearance issue or a maintenance issue, but also a safety issue. Rifle shooting rules dictate that negligent discharges can happen because of a weapon that hasn't been properly cleaned. That can be doubly dangerous in an on target pistol range with the number of bodies in an enclosed space much higher than in other, outdoor settings.
To rectify this issue, military personnel have begun using a much more effective gun oil than the traditional CLP. Durable Solid Lubricant, or DSL, doesn't need to be applied as often as CLP and can take the place of heavy duty lubricants. While you may not be protecting your weapons from the sand of the desert or the sweltering heat of the jungle, your firearms deserve the same care that warriors give theirs. Today, that means DSL. Whether you favor an indoor pistol firing range or the outdoor firing range design, train safely and use DSL.
Conclusion
Increased reliability, maintainability and resistance are the key properties of DSL and they have equal or improved performance compared to CLP. Army engineers are continuing to enjoy the benefits of this product, which is also being used in the manufacturing of machinery and other armament system.
Choosing the best gun lubricant can help protect your weapon from corrosion and improves its reliability. As we've seen, the industry standard for cleaning method is the DSL material, which offer exceptional results.
More:
3 and 1 oil for guns, 3 in one oil for guns, gun storage oil, household gun oil, rifle oil, sig sauer gun grease, all purpose gun cleaner, amsoil firearm cleaner for sale, best clp for ar, best clp for handguns, best gun cleaning and lubrication, best non toxic clp, best shotgun cleaner and lubricant, break free clp 2, break free clp aerosol, break free clp cleaner lubricant preservative, break free clp home depot, break free gun cleaning products, break free lp vs clp, can 3 in 1 oil be used on guns, cleaner lubricant.